Caring about babies
and children
Legat Invest Agency provides services such as permanent or occasional childcare. We offer you the easiest and fastest way to find the most suitable nanny for your child or children. We are here to provide you with the highest quality of services with taking care of your children and helping with minor housekeeping chores, depending on your needs. The agency is primarily there to allow you to enjoy parenting in an easier and better way.
Caring about babies and children
Although there is almost always a possibility to leave your children with your parents or relatives, or enrolling them in a private or public preschool, however, it often may be a big obligation for your parents to take every day care, as well as taking them to and from preschool, no matter how much they love their grandchildren. Hiring a nanny is the best solution, especially for very young children, because they are often exposed to viral infections which are very common in collectives. A nanny is dedicated to your child only, encouraging their creativity and intellectual development with reading, drawing, writing, playing. Even when you are away, you can have a complete insight and control over the upbringing of your child. And finally, a nanny will always adjust her working hours with your needs.
That's why we are here. To help you with daily chores when you are busy working, so you can enjoy in every following day. However, every mother, whether she works or not, is entitled to a bit of time for herself. Because a satisfied woman is often a better mother. We are here to help you choose a suitable baby-sitter and provide you with all the necessary information: age, recommendations, expertise and profile to meet with your individual, family, and above all, your child's needs. We will consider the nanny's experience, your child's age, your needs, the nanny's distance from your home and we will complete the nanny's documents. You just decide whether you want someone with more life and professional experience, someone with more energy or someone who would be more fun and creative with your children. And finally, according to all your requirements, our professional team with its strictest criteria, will select and send you several baby-sitters of the same profile for an interview, where you as a parent have the right to choose and select the most qualified person for caring of your child or children, according to the needs of your family.
WE ARE HERE TO MAKE YOU HAPPY! WE ARE HERE FOR YOU!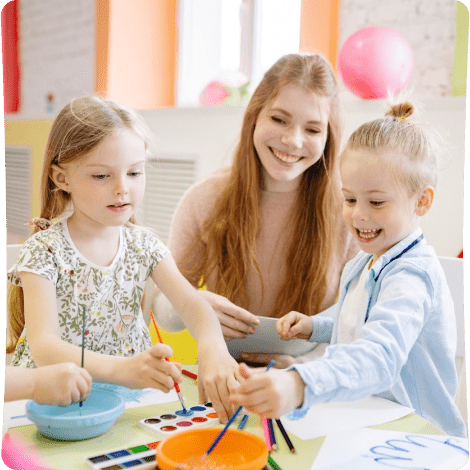 Feel free to contact us for any additional questions

Lomina 5 / II Floor
T. C. Zeleni venac

+381 11 3281 228
+381 63 7723 121